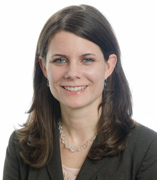 Christina Welter, DrPH, MPH
Director
Contact
Office Phone:
Email:
About
Dr. Welter was previously the Deputy Director of the Prevention Services Unit at the Cook County Department of Public Health, a large local health department located in suburban Cook County just outside the City of Chicago that serves 2.4 million residents within 125 municipalities. Dr. Welter's expertise is to facilitate systems-oriented change by partnering with others to design, execute, and evaluate strategic and asset-based improvement initiatives. Under her leadership at CCDPH, she catalyzed the establishment of several ongoing and award-winning countywide leadership collaboratives and secured over 25 million dollars in funding to implement policy, systems and environmental changes initiatives.
Dr. Welter was also a part of a research team that received the 2013 Robert Wood Johnson Foundation Active Living Research Award for Translating Research to Policy. Dr. Welter is currently a member of the Illinois Governor's State Health Improvement Plan Implementation Coordination Council. She is a Public Health Accreditation Board Site Team Chair and helped to evaluate the first round of health departments seeking voluntary accreditation. In addition, Dr. Welter is Principal Investigator of the HRSA-funded Region V Public Health Training Collaborative (PHTC).
She previously served as a member of the Public Health Accreditation Board's Standards and Measures Workgroup who developed the first set of accreditation standards for state and local public health departments. She also worked on a consultant team to develop the Operational Definition of a Local Health Department Prototype Metrics and served on NACCHO's Project Public Health Ready Workgroup, a project dedicated to developing the first national standards in public health preparedness.